On a recent Sunday I was struggling through the better part of a six hour drive, headed home after a whirlwind weekend, climbing east across the Mojave Desert on an Interstate Highway.
On my right were brown mountains, pushed, tilted, piled as evidence of the earth's restless crust. On my left was a large field of black basalt. In front was a row of semi-trailers traveling the dark asphalt. I sped past a bridge along a pale frontage road between my highway and the basalt.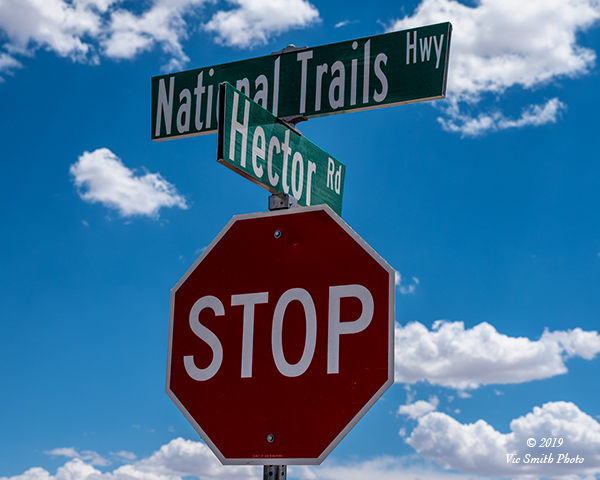 Ready for a break, I improvised, turning down the next offramp and right to the frontage road. At the end of the exit road I came to a tall post with a stop sign and a street sign, Old Trails Highway. I was at the predecessor, then participant in Route 66, the Mother Road. I had time travelled.
I turned right toward the bridge, which spanned a narrow sandy wash with a bed of bright sand, clear of vegetation. It was hot as I slipped down the sandy embankment on the west side. Creosote and other smaller bushes dotted the soil in stands. It was snake time, so I walked a bit down wash to get a clear path back to the bridge.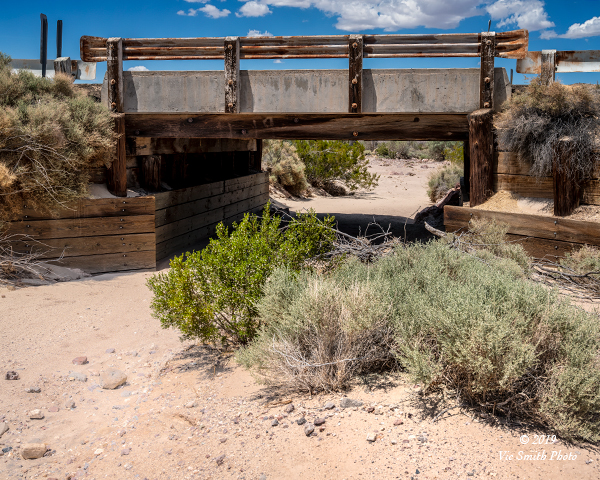 Looking up the wash I had to admire the bridge's thick wooden road beam supports, the smoothed wooden footing guard panels, the concrete road edges, the rusted metal guardrails. This bridge was built for endurance, I could imagine heady flashes of desert water collecting on the brown mountains and thrashing downslope underneath it, square at me.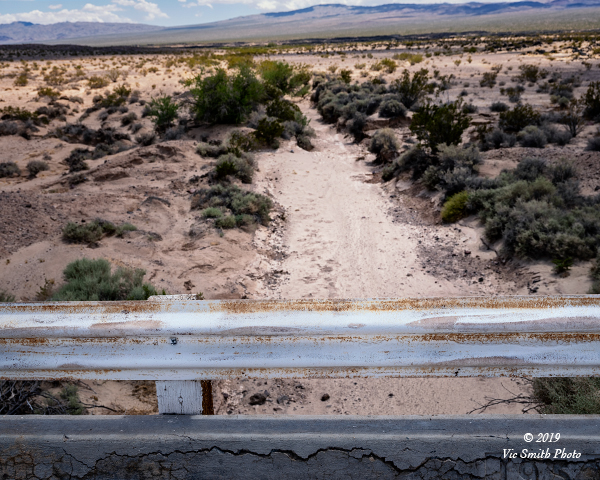 Climbing back up to the road, I stood on the bridge, looking south along the wash. Black basalt endured in the distance, magma from Pisgah Crater, whose cliffs and black sand were featured in the movie Letters From Iwo Jima and whose name comes from the Old Testament, the peak from which Moses saw the Promised Land.
Looking west, I saw the roadway shimmering in the heat and pointing west, The Mother Road, a river across a dry land. Riding on such roads and bridges has been a part of my life, a lad who came from the West.
I returned to the interstate, still heading east. Maybe this little side stop was my version of antique-ing.
**this piece is excerpted from a longer work intended for publication submittal
**please contact me (vic at vicsmithphoto.com) if you are interested in reviewing it
My thanks to Jessie for her help
V1 190612